Merchandise - Now Available!
Click here!

Breaking news... Back for their Next Bizarre Act...

Motorcycle Show with The Gladiators Motorcycle Club of Maitland - Saturday, March 22nd, 2014

Live entertainment (between 3pm and 4pm) by Circusbizarre featuring a world record attempt by Hanibal! (Maximum number of "Besser" blocks smashed on his head in ONE MINUTE!)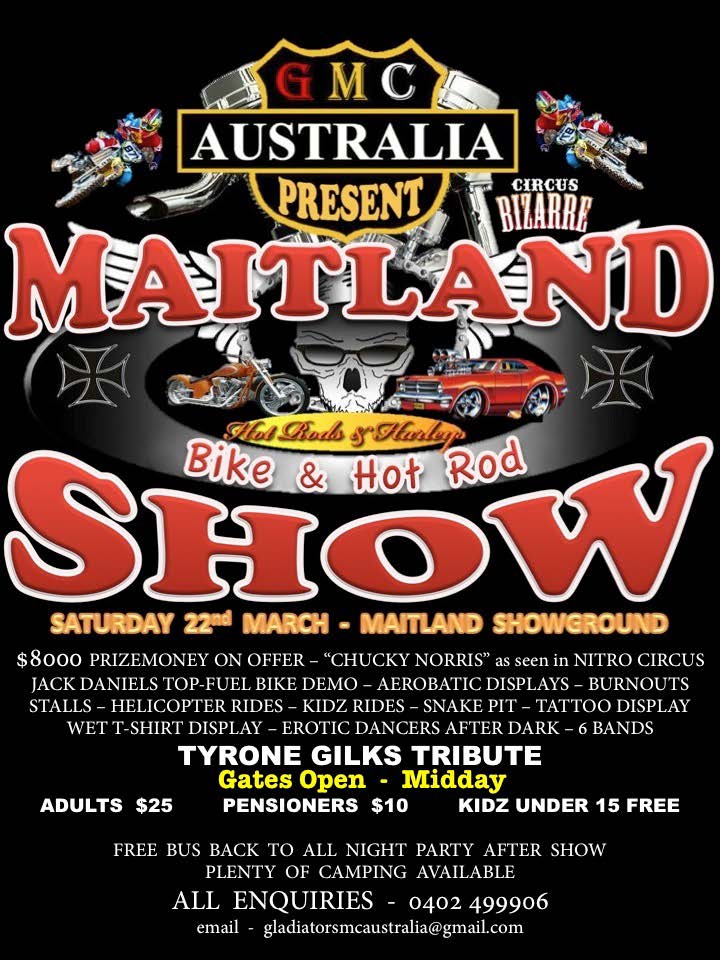 Download the pamphlet here:
Maitland Motorcycle Show - March 22nd, 2014 with Circus Bizarre


"This is a show for the ghoulish,the twisted, the morbidly curious…"
James Norman, The Age

"Circus Bizarre makes America's Jim Rose Circus look like a Wiggles concert. Go with an empty, cast-iron stomach and leave your sanity at home."
Rod Lewis, News Review Messenger

Circus Bizarre, a unique adults-only circus is a tongue-in-cheek take on traditional vaudeville circus, offering a bizarre mix of illusion and shocking reality. The circus camps up sado-masochism while presenting a modern take on the darker side of cabaret and vaudeville freak shows.

Circus Bizarre is Australia's premier Freak Show with a record of over 300 performances at S.A. venues alone, such as Big Day Out, Black Fly's extreme Party, Halloween Festival, Adelaide Fringe 2000, 2002 and 2006 and both Melbourne and Bondi Fringe. Mercury Cinema Movie Carnivals, Feast Festival and most of Adelaide's Night Clubs.

More recently Circus Bizarre has performed at Marrickville Street Festival, The Enmore Theatre, Newtown R.S.L. and The Ruby Rabbit night club . Circus Bizarre has also appeared on a number of episodes of Pizza, and an episode of Search for a Super Model. Circus Bizarre's star Baby Hanibal appeared on Guinness World Records where he sliced his way to a new world record with sword and watermelons and has been to Guinness Records Italy in defence of the record.
Baby Hanibal, Danger Boy, The Amazing Cristina, and Circus Bizarre's two sexy assistants have all performed on Australia's Got Talent.

Circus Bizarre has also been featured in Picture, Picture Premium, Ralph, various "bikie' and tattoo magazines and "Culture" magazine.

The show is hailed as the epitome of Twisted Vaudeville. These freaky degenerates risk life, limb and blood poisoning for your voyeuristic pleasures!

Baby Hanibal, the human Sparkplug, unites with Bella Black, April Mae, Danger Boy, Mr Tetanus and Adelaide's famous Muso with attitude,"Fluffy" to have you laughing one moment and reaching for the sick bag the next. Behold the titillating sight of Bella Black lying on her bed of nails. See April Mae sharpen her finger nails with an angle grinder then perform the deadly dry ice kiss or remove her ingrown toenails on the Staircase of Death (razor sharp swords). Cheer Baby Hanibal as he is electrocuted with 240 Volts as he grills a sausage between his nipples. Watch the Gladiator of Blubber as he lies on a bed of freshly smashed glass while Bella and April play see saw on his guts. Not Happy Hanibal !

Watch Hanibal's scrotum streeeetch as he lifts a full slab of beer with the rings in his ball bag. Guys, do not try this at home!! Not even with parental or spousal supervision !

Join gourmand Baby Hanibal for supper Live worms and a Mouse. If it's Live he'll eat !

Warning, Circus Bizarre Performers are professionals so under no circumstances try any of what you see at home, even with parental supervision! Permanent death or serious injury could result. Please take this caution seriously It's True!

Major Sponsor

The Chopper Shed
http://www.thechoppershed.com/
1800 003 626
Building choppers and bobbers the old school way... machining, welding and fabricating parts, customising and chopping any make of bike to your specifications...

Sponsors

Chris (Sparky) Dempsey
All electrical work,15 years of experience in Domestic,Industry and Solar electric systems All installations,repair and maintenance
dempelec@bigpond.net.au or phone 0419 460 656. Contractor's License Number: 48501C
Beavis Party at Beresford

For all Marquee and other party hire : Bevis Party at Beresford. > Bevis, your event team is a locally owned and operated business specializing in event hire needs including weddings,Corporate,Charity,Sporting,Open Days and Functions.

MISTRESS MARTINE'S EXTRAVAGANZA

B & D, Cross Dressing, and much ,much more Private bush setting, Appointment only
0450 599738
Adelaide Brighton (Adbri)

Hannibal's "Official" Besser Block provider!



Click here for Adbri's Website
Speedy Skips

7 days bin hire Bin sizes 2m, 3m, 4m, & 6m
Speedy Skips pride themselves on prompt efficient service, delivery and pickup. Business is situated in Maitland and locally owned.
Speedy Skips
Morpeth Commercial Hotel & Brewery

We brew craft beer from our very own micro-brewery onsite! Over 4 Morpeth Brewery & Beer Co. beers on tap! Classic, quality bistro meals available using the best local and seasonal produce, and an ever-changing Specials Board. We offer many function options: from an exclusive soiree on our Verandah Bar, finger food in our main bar or a sit down dinner in our dining room. Experience the most beautiful view of Morpeth and the Hunter Valley from our Verandah Bar whilst enjoying boutique beer, quality wine, and delicious food.
Morpeth Commercial Hotel & Brewery
Chris Hammel and the Cornstalk Band

CORNSTALK a six piece Roots Rock band originating from Newcastle Australia and a 2013 Australian Independent Music Award Nominee Finalist bring you a new take on Seattle styled harmonies from the Hamall brothers, Cornstalk deliver new sounds, fresh progressions and a new direction for roots rock performance.
Chris Hammel and the Cornstalk Band